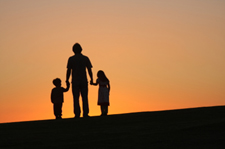 Addiction
Any person, no matter what interests they enjoy or lifestyle they live, is at risk for addiction. When we do something we enjoy, it is just a natural response to desire it again. This simple concept is healthy and natural, but becomes a problem when we lose control over our desires.

After Divorce
Some of the most difficult times that result from a divorce come long after the process is complete. Keep reading for some of the most common problems people face after divorce and the best solutions to make life better. Learn about creating support groups, analyzing your situation, and dating again.

Annulment
Most people have an incorrect idea of what an annulment means and what requirements you must meet to acquire one. Contrary to common belief, an annulment is not simply a way to end your marriage if you have changed your mind just a couple weeks after the wedding. It is a way to officially declare that your marriage was void from the start.

Child Support
Each set of circumstances revolving around a child support situation will affect who will have to pay child support as well as how much the payments will have to be. Each state has assigned its own individual laws to the process of child support and applies different versions of a basic formula. Read this article for more information on the amount, length, and enforcement of child support.

Computer Addiction
Much like addictions to other things like sex, drugs, or gambling, computer addiction can seriously affect a person's quality of life as well as the lives of the people around them. The online and computer world can often seem more appealing than the real world, so the use of the computer can quickly and quietly become an addiction.

Cope with Divorce
Successfully moving through and past a divorce involves self-exploration, patience, and a true dedication to getting better. There are innumerable resources available for every topic involved in divorce; taking advantage of them is the key. By understanding the process and finding information on how to cope with it, someone struggling through a divorce can move on to find happiness.

Costs of Divorce
Every divorce is different, down to the type of divorce and the lawyers involved. Feelings of frustration and anger push spouses to fight over property, custody, and legal fees. This approach will do nothing but raise the final cost of the divorce. Keep reading to learn about the different ways a divorce can cost you money.

Divorce and Children
Unfortunately, the real victims of divorce are the children involved. Many parents, although they have the ability to work with their children to make divorce easier on them, either choose not to or don't take the time to learn how. It seems common for parents to forget or ignore the major responsibilities they have to their kids because they are so involved in their own divorce process. If you have children and feel you might be headed for a divorce, keep reading to learn more.

Divorce Mistakes
There are a certain number of mistakes that commonly occur during the divorce process, usually made by people who are trying to hurry through it or avoid dealing with it all together. This article will explain common personal, financial, and legal mistakes people make during the divorce process.

Divorce Overseas
Many situations arise in which U.S. citizens move to other countries to live with their new spouse. Sometimes, these U.S. citizens living in foreign countries need divorces, but feel unsure about the laws and regulations there. Although it is seemingly confusing at first, this area of marriage and divorce law is just a matter of research. If you are dealing with a divorce overseas and plan to return to the U.S., it's important to understand the specific laws in your situation.

Domestic Abuse
When a person abuses their domestic partner, they are making a conscious choice to gain more power over them. There is never an excuse for domestic abuse. If you or a loved one might be a victim of domestic abuse, take active steps towards ending the situation.

Foreign Divorce
Divorcing a foreign spouse can sometimes be more complex than divorcing a domestic spouse. This article outlines the basics of divorcing a foreign spouse including information on Conditional Permanent Resident Status, Affidavits of support, how to create a proper defense, international custody issues, and planning ahead for the future.

Help Kids with Divorce
All too often, children are punished with the heaviest burden when their parents divorce and ignore their needs. Many times, parents actually use their children to gain more in their divorce proceedings. Read this article to learn about the mistakes, consequences, and solutions for parents going through divorce.

Legal Separation
A legal separation is designed for people who do not want to end their marriage for one reason or another, but are having enough problems that they feel the need to separate. Instead of completely ending the marriage, a legal separation will give each spouse some space to think over the situation, experience independent life again, and decide where to move on from there.

Marital Affairs
An affair can poison a relationship to the point of no return. Here you can find information on the common causes of marital affairs, the differences between emotional and physical affairs, and how affairs can and will affect relationships.

Marriage Problems
There are many different problems a marriage can experience and it depends on the specific people involved. While some couples have problems communicating, others have trouble with sexual intimacy. Some couples have trouble with respect while other couples have issues with splitting up the chores. The truth is that most problems, no matter what they involve, can generally be solved with hard work and patience.

No Child Support
When a person can't afford to pay their child support, it can cause a major rift in his or her entire life. Generally, a parent will say that their children are the most important things in life, so not being able to provide support for them can bring serious stress. This article outlines the basics of what occurs when you can't afford child support.

Sexless Marriage
Fortunately, a sexless marriage or relationship can be fixed as long as both people involved are dedicated to the relationship and its success. Many of the problems people have with sexual intimacy are actually a result of other problems in their relationship. Keep reading to learn more.

Single Parents
Whether you have gone through a rough divorce or have been a single parent from the start, the challenges ahead probably feel intimidating and unnerving. It is hard enough to raise children as a team; single parenting only doubles the responsibility. Although it may seem too challenging, you can successfully raise healthy, happy children on your own with the right information and dedication.

Step Families
A step family should be a source of support and love. With a bit of dedication and hard work, you can create the family dynamic you wish to achieve. By understanding the problems you are facing and discussing them openly, your family will become more connected and less disrupted. Read this article for the basics of maintaining a successful, happy step family.

Tell Kids about Divorce
By educating yourself and maintaining a dedication to your children's well being during your divorce, you can help ensure your child's future mental and emotional health. Although it may seem like a huge weight to hold on your shoulders, keep in mind that the steps to helping your child through a divorce are actually quite simple with the right amounts of patience, dedication and love.

Types of Divorce
Many people think divorce is a cut-and-dry process that is the same for everyone, but that is a common misconception. Read this article for information on the different types of divorce including the difference between "fault" and "no-fault" divorce.

Visitation Rights
The term "visitation rights" is very misleading. It suggests that a non-custodial parent is automatically entitled to visit their child. That is not the case. A non-custodial parent's right to visit their child must be proven to be in the best interest of that child. Visitation for non-custodial parents is a privilege, not a right.